Stonewalled *
STONEWALLED JUSTICE -- CORRUPTION CASES:
The Biggest Chill; The Essence of Fascism
The third book by Charles Stone, et al, deals with high level corruption starting in Michigan with the following topics:

Academic corruption at a top medical school
Largest Federal case in Michigan history
Possible "Jock Jablonsky" death of key witness
Persecution of original student for student loans
Other student loan cases including the largest Guaranteed Student loan user in 1984 and continuing abuses
Role of key Members of Congress in education and labor issues including the head on the Congressional auto caucus
Role of several of the better major corporations in this corruption
Atomic veterans cover-up and the Chief Medical Director of the VA
Similar questions about quality of care for the VA and Agent Orange
Role of major Universities in Michigan to these veterans issues including Gulf War Syndrome

US Supreme Court test case for the Buckley Act and the use of the type attorneys that murders use.
Links to the recent shootings at Virginia Tech by the US Supreme Court and US Dept. of Education actions and policies. Role of Associate Justice John Paul Stevens

Efforts to frame an investigative journalist for murder because of his efforts to expose a series of questionable FBI cases and corruption.
The efforts of the FBI and Justice Dept. to prevent acess to the documents in these cases.

A series of murders carried out by the real murderer and the solving of the case by The Michigan State Police.
The cover-up of the case by A&E Cold Files. The same group who did an interesting cover-up of the Vincent Foster murder.

The lack of response or action by several US Govt. Departments.
Phone tapping and active efforts by the US Govt. to prevent Hollywood consideration of a motion picture.

The failure of the media to cover these stories properly.
The decline of investigative journalism since the Don Bolles murder and the companion books from Dell with the Ann Arbor VA Hosital case.
Links to the Clinton healthcare
Links to the largest fraud in anthropology and much more

The lack of action by the Governor of Michigan and role of a close friend of Michael Moore as Prosecuting Attorney
The Biggest Chill, The Essence of Fascism
NO STONE LEFT UNTURNED
STONEWALLED JUSTICE
by Charles Stone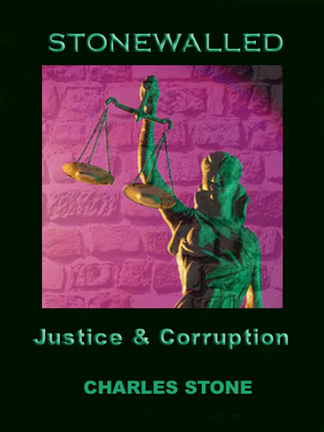 Charles Stone, Author
CHARLES STONE, M.A.
~ WDC's PREMIER INDEPENDENT INVESTIGATIVE REPORTER
Mr. Stone is a financial consultant, investigative writer, and is available as a news commentator and panelist on his specialty topics, including microbiology, Gulf War Syndrome and Washington D.C. insider view.
My Contact Information
Links to Other Sites